Evernote is a great note taking platform, which I covered before in this blog post. A few days ago, they announced a dramatic change to the pricing of their paid plans. In particular, the following changes occurred:
Evernote Plus went from $24.99/year to $34.99/year
Evernote Premium went from $49.99/year to $69.99/year
Evernote Free is now limited to two active devices
Criticism from users
These news unleashed quite a bit of discussion at the Evernote forum, especially because Plus and Premium users who have been paying for years don't like a 40% increase in prices without any new feature.
Free users are also a bit upset because the philosophy of former CEO Phil Libin has not been respected:
The idea is that we want you to use Evernote forever. Once you're using it, we want you to keep using it, and it's more important that you stay than you pay us. We want the engagement. The longer you use it, the higher the perceived value gets. And the higher the perceived value, the more willing you're willing to pay. It's up to us to make something that you want to pay for. The percentage of people who pay in the first month is like one half of one percent. But if they use it for a year, that goes up to seven percent. In the second year, it goes up to 11 percent. Our oldest cohort, the people who have been with us five years or so, it goes up to 25 percent.
Of course, some say that free users are only a cost so their opinions are not important, but Phil Libin has been pretty good at explaining the opposite. The strict limit of two devices will break the flow of new users (and potential clients).
I have been a Free, a Plus and a Premium user at different points, hence I understand the concerns of all users.
Different prices in different countries
The Evernote announcement contained a huge hint to something I didn't fully realize before, i.e. that "regional pricing may vary". Initially, I though of obvious small differences related to different currencies and rounding numbers. For example, Premium costs $70 in the USA which roughly corresponds to €63. The price in Italy is €60, but it is more or less the same.
This forum post by a Brazilian user revealed that there's more than meets the eye:
I would NOT pay US$ 70 / year to keep using Evernote, but the Plus subscription here in Brazil is quite affordable, so I'll keep using Evernote
This is interesting!
Evernote accepts PayPal payments, but only for supported currencies. Unfortunately, PayPal only allows Brazilians to pay using Brazilian Real as a currency. Therefore I took the time to use several servers of the VPN service I use daily, to check prices in the countries listed on the PayPal page.
I discovered that Evernote prices vary a lot between countries. This table shows how much Premium costs in some of the countries where Evernote is cheaper than the USA. The amounts in euros are rounded and those in US dollars are derived from them:
Country
Price in EUR
(rounded)
Price in USD
(assuming €1 = $1.11)
Russia
€ 28,00
$31,08
Taiwan
€ 38,00
$42,18
Mexico
€ 19,00
$21,09
Israel
€ 37,00
$41,07
Poland
€ 22,00
$24,42
Singapore
€ 38,00
$42,18
Japan
€ 45,00
$49,95
Brazil
€ 22,00
$24,42
Hong Kong
€ 41,00
$45,51
Basically, a Mexican Premium account has the same features but it costs a third of an American one.
Buying the subscription
I tried to buy a year of Evernote Premium at the Mexican price and I confirm it works. The idea is simple: anyone can use a VPN service to connect to Evernote through a Mexican IP address and pay the 399MXN price.
Therefore, you will need one that supports Mexico. I have written about some VPN services (both free and paid) in the past, but you can actually use any as long as they provide you a server in Mexico. Many commercial VPNs offer a free trial and you only need the service for 10 minutes. 😉
Once your VPN connection is active, head over to the Evernote pricing page and you will see the prices in Mexican Pesos. You can proceed to activate your account and pay through PayPal: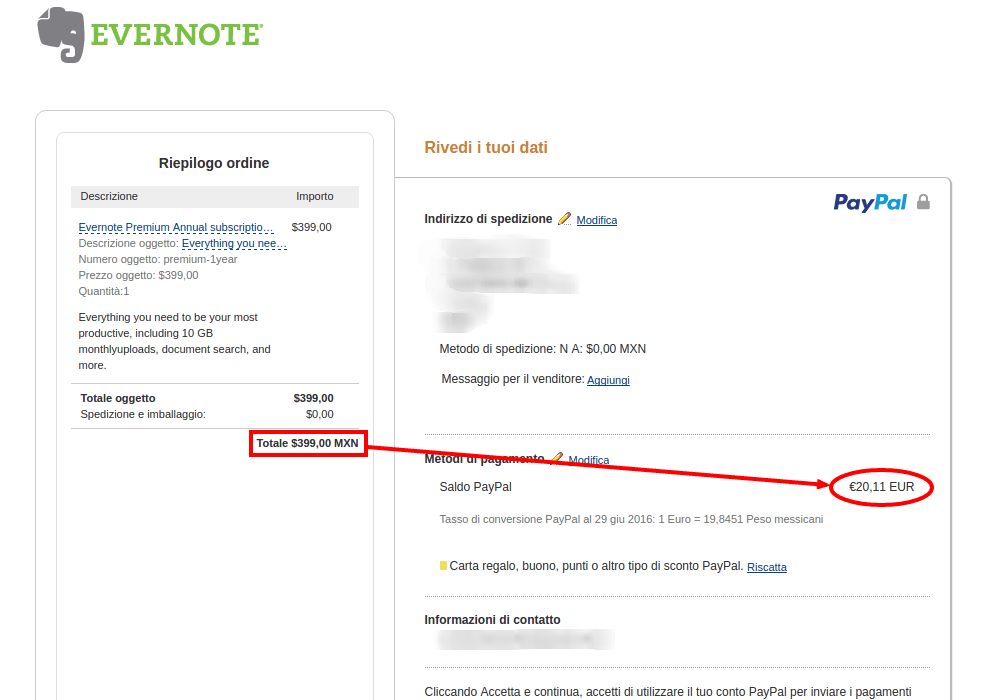 PayPal will also set up an auto-renewable subscription with the Mexican price, so you don't need to repeat the process if you plan to buy the subscription again. Finally, you need to wait for a few minutes.
You will receive a confirmation email from Evernote telling you that you that your profile has been switched to Premium. That's it, you don't need the VPN anymore. 🙂